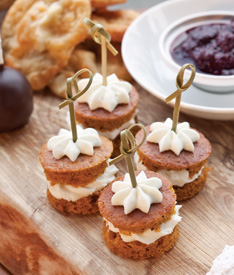 via Tea Time Magazine



P
UMPKIN CAKES


Makes 48 to 60 mini cakes
1 (15-ounce) can pumpkin puree
3 large eggs
1 cup vegetable oil
1 teaspoon vanilla extract
2 1/2 cups all-purpose flour
2 1/2 cups sugar
1 teaspoon baking soda
1 teaspoon ground nutmeg
1 teaspoon ground allspice
1 teaspoon ground cinnamon
1 teaspoon ground cloves
1/4 teaspoon salt

Garnish: decorative skewers or picks

1. Preheat oven to 350°. Line a rimmed 18x12-inch baking sheet with parchment paper. Set aside.
2. In a large mixing bowl, beat pumpkin, eggs, oil, and vanilla at medium speed with an electric mixer until ingredients are well mixed. Set aside.
3. In a medium bowl, combine flour, sugar, baking soda, nutmeg, allspice, cinnamon, cloves, and salt, whisking until well blended.
4. Add flour mixture to pumpkin mixture, beating until just combined. Pour batter onto prepared baking sheet, smoothing with an offset spatula.
5. Bake until a toothpick inserted in the center comes out clean, 17 to 18 minutes. Cool in pan. Freeze for 4 hours.
6. Using a 1 1/2-inch round cutter, cut as many circles from frozen cake as possible, avoiding edges. Slice frozen cake circles in half horizontally. Set aside.
7. Place Cream Cheese Frosting in a pastry bag fitted with a medium star tip. Pipe frosting onto bottom halves of cake circles. Top with remaining cake halves. Pipe a star on top of each mini cake.
8. Garnish each mini cake with a decorative skewer or pick, if desired.
(from Country Living Magazine)
Ingredients
·
1

package(s)

(8-ounce)
Cream Cheese
, softened
·
1/4

cup(s)
Pumpkin Purée
·
1/4

cup(s)

(1/2 stick)
Unsalted Butter
, softened
·
1

tablespoon(s)
Fresh Orange Juice
·
1

teaspoon(s)
Grated Orange Zest
·
1/2

teaspoon(s)
Pure Vanilla Extract
·
4

cup(s)
Confectioners' Sugar
, sifted
Directions:
Blend the cream cheese, pumpkin purée, butter, orange juice, zest, and vanilla in a large bowl using an electric mixer set at medium speed until smooth. Add the sugar and continue to beat until light and creamy -- about 5 more minutes.